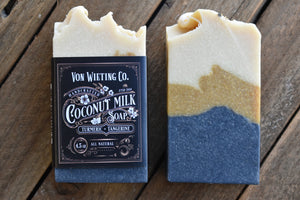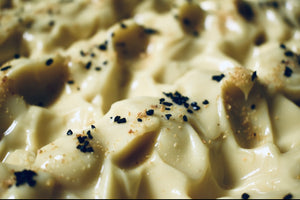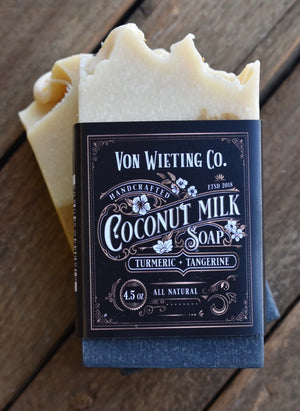 Our Turmeric + Tangerine bar is a vitamin C powerhouse house topped with subtle notes of cinnamon, paired with a citrus burst of fresh cut oranges.
BENEFITS: 
Turmeric is rich in antioxidants & anti-microbial properties that moisturize while stimulating the production of collagen to improve elasticity and a more even skin tone.

Orange Peel Powder contains vitamin C which helps to form collagen & elastin while improving oily skin and unclogging pores.

Activated charcoal has detoxifying properties which penetrate deep into your pores to remove toxins & impurities while exfoliating for a smoother more refined complexion.

Coconut Milk delivers intense hydration & has superior moisturizing qualities.
USAGE: Face & Body
INGREDIENTS:  Olive Oil, Cocoa Butter, Coconut Oil, Coconut Milk, Castor Oil, Essential Oils, Turmeric, Orange Peel Powder, Kaolin Clay, Activated Charcoal, Sodium Hydroxide, Sodium Lactate, Rosemary Extract, Dried Orange Peel, Black Sea Salt
WEIGHT:  Approximately 4.5+ oz.