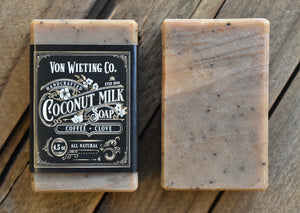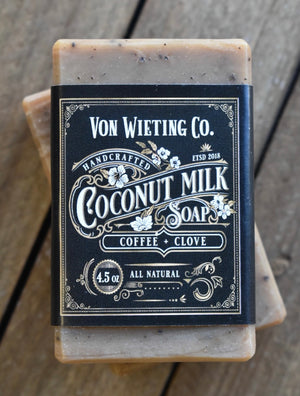 We've brewed up a fresh batch of soap to give you the extra caffeine fix you need to start your day.
This bar is a blend of cedarwood & clove essential oils, coconut milk, coffee & oatmeal, while fresh coffee grounds provide max exfoliation.
(This bar comes in an unscented version, Naked Grit)
BENEFITS: 
Coffee is nutrient rich and loaded with antioxidants. It is also a natural way to remove dead skin cells & promote healthy skin.

Kaolin Clay gently sloughs away dead skin cells while absorbing impurities from your pores. Its skin soothing properties help calm inflamed or irritated skin.

Oatmeal used topically is a soothing moisturizer, cleanser and itch reliever. It's also known for its antioxidant & anti inflammatory properties.

Coconut milk delivers intense hydration & has superior moisturizing qualities. 
USAGE: Face & Body
INGREDIENTS:  Olive Oil, Cocoa Butter, Coconut Oil, Coconut Milk, Castor Oil, Essential Oils, Colloidal Oatmeal, Coffee Grounds, Kaolin Clay, Sodium Hydroxide, Sodium Lactate, Rosemary Extract
WEIGHT:  Approximately 4.5+ oz.