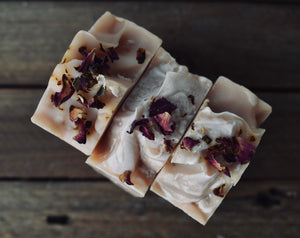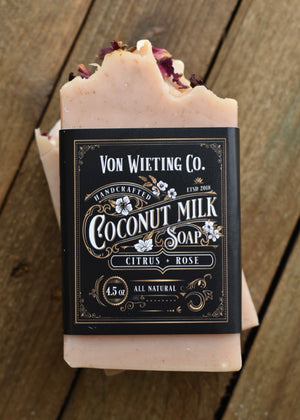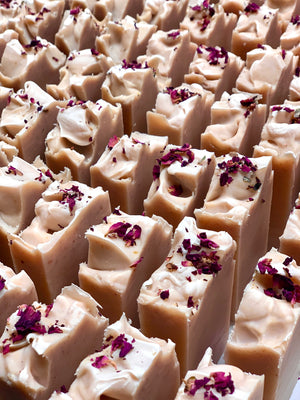 Our Citrus + Rose bar is scented with bright flashes of citrus & grapefruit with floral top notes of geranium rose essential oils. 
BENEFITS: 
Rosehip Powder is know for its high levels of vitamins C, E, A & D. This combination of antioxidants helps protect the skin against environmental aggressors while helping fight inflammation.

Rose Clay's anti aging properties balance & smooth the skin without the risk of over exfoliating.

Kaolin Clay gently sloughs away dead skin cells while absorbing impurities from your pores. Its skin soothing properties help calm inflamed or irritated skin.

Coconut Milk delivers intense hydration & has superior moisturizing qualities.
USAGE: Face & Body
INGREDIENTS:  Olive Oil, Cocoa Butter, Coconut Oil, Coconut Milk, Castor Oil, Essential Oils, Rosehip Powder, Rose Clay, Kaolin Clay, Sodium Hydroxide, Sodium Lactate, Rosemary Extract, Rose Petals
WEIGHT:  Approximately 4.5+ oz.