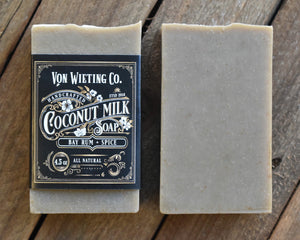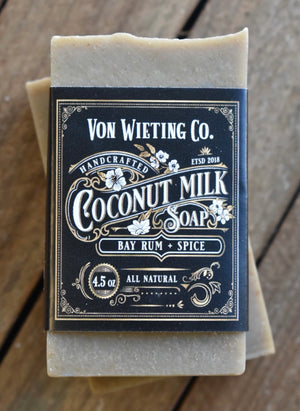 A timeless classic reminiscent of the old school neighborhood Barbershop. Bay Rum + Spice is an essential oil blend of orange zest & pine with spicy top notes of crushed cloves and cinnamon.
BENEFITS: 
Dead Sea Mud 

contains minerals that nourish your skin, improve blood circulation while promoting a natural youthful glow. 

Orange Peel Powder contains vitamin C & antioxidants helping form collagen to slow down skin aging while working as a toner to help improve oily skin & shrink pores.

Coconut Milk delivers intense hydration & has superior moisturizing qualities.
USAGE: Face & Body
INGREDIENTS:  Olive Oil, Cocoa Butter, Coconut Oil, Coconut Milk, Castor Oil, Essential Oils, Dead Sea Mud, Orange Peel Powder, Kaolin Clay, Sodium Hydroxide, Sodium Lactate, Rosemary Extract
WEIGHT:  Approximately 4.5+ oz.