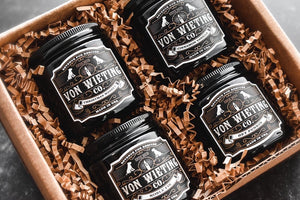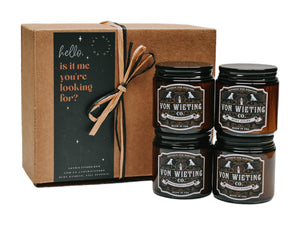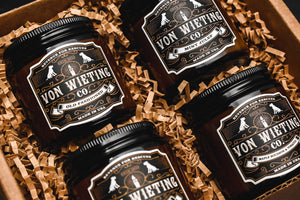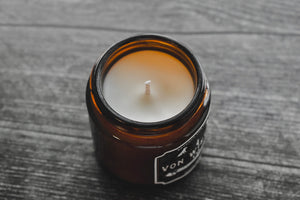 Looking for the perfect gift? Our candle collection comes packaged in a gift set of 4 that features our most popular scents in their category.
HOLIDAY COLLECTION
CINNAMON VANILLA - Spicy cinnamon & sweet vanilla come together in a classic combination perfect for bringing a touch of warmth into your home on a cool winter day.
CHRISTMAS MARKET - A fresh twist on traditional pine with vibrant notes of eucalyptus, cypress and tonka bean. Infused with natural essential oils including cedarwood, fir needle & cedar leaf, this scent is sure to transform your home into your very own winter wonderland.
NOBLE FIR - Bring an evergreen forest into your home with the clean, refreshing scent of cypress, moss & eucalyptus, blended with a rich undertone of fir balsam.
HEY PUNKIN - Comforting & sweet with just the right amount of spice. We've baked up mouthwatering notes of pumpkin, brown sugar, cinnamon & nutmeg that brings a warm touch of classic fall nostalgia.
COCKTAIL COLLECTION
OLD FASHIONED -

Straight from your whiskey glass to the candle jar.




We mixed warm sugar, a dash of bitters, muddled cherries topped off with aged bourbon & orange zest.

OAK & HONEY BOURBON -

If you're a bourbon enthusiast then close your eyes and take in the top notes of sweet honey bourbon infused with an assortment of leather, midnight orchid & stave oak. This crafted blend adds complexity & deep aromas to an already intriguing spirit.

MINT JULEP -

A Cool blend of pineapple & fresh muddled mint create a clean & invigorating scent reminiscent of your favorite southern cocktail. 

MAPLE BOURBON & TOBACCO -

A rich combination of warm amber, sweet vanilla & tobacco come together to form a deep, sultry scent that is compelling without overwhelming.
EARTH + SPICE COLLECTION
TEAKWOOD TOBACCO - A

complex scent that adds a touch of refinement with top notes of leather, tobacco, musk & amber deepened by a unique mixture of bergamot, black tea & pepper.

OAKMOSS & AMBER -

A bright flash of amber paired with a rich, woody base & herbs blend to recreate the warmth of sunshine filtering through the trees.

CANNABIS & CLOVE -

Cannabis & Clove is not a traditional cannabis fragrance. Notes of Nepal cannabis, coriander, clove & patchouli leaves blend together to create a warm, deep, unique fragrance.

JASMINE SANDALWOOD -

A complex woodsy scent blended with warm jasmine, dark musk & sandalwood makes this scent the perfect balance of masculine & feminine.
Each pack features the following:
(4) 3.5 oz. Apothecary Jars
Hand-poured Coconut wax
Approx. 20+ hours of burn time each
Premium fragrance infused with essential oils
10% of profits donated to Animal Rescue & Shelters